We find whether DaVinci Resolve 14 performs better on iMac Pro, Mac Pro or PC.
At BIZON a lot of our customers want to switch from a Mac to a PC Workstation. As workflows have increased from 4K, 6K, and even 8K in some places, it is important to make the right choice for optimum performance.
Our previous article compared the performance of the iMac Pro and Mac Pro to a PC when using Premier Pro 2019. You can check results
here
.
However, at BIZON we decided to go one step further and test their performance when using DaVinci Resolve 14 application.
You might think that the Mac Pro and iMac Pro aren't really optimized to use DaVinci Resolve 14 and you'd be right. Resolve works better with multiple GPUs and is optimized for CUDA, which is only available on NVIDIA GPUs.
Apple uses AMD GPUs and only Mac Pro has more than a single card, plus you can easily get dual, triple, or quad GPU configurations with a PC. However, the iMac Pro and Mac Pro are the best Apple has to offer, that's why we decided to check how they compare with a PC.
To make a comparison we took two high-end iMac Pro's along with an old Mac Pro and tested them against three similarly priced PCs. If you love charts you'll love taking a look at the data, however, you can always skip the charts if you don't fancy the visuals.
Test configurations
To resolve the question as to which system is better for DaVinci Resolve 14 we used the following system configurations:
1. BIZON V5000 10-Core Video Editing Workstation PC
More details »
Price $5,055 + $520 (4K monitor) = $5575 –> ~$5600
2. BIZON V5000 10-Core Video Editing Workstation Computer
More details »
Price $6,434 + $520 (4K monitor) = $6954 –> ~$7000
3. BIZON V5000 14-Core Video Editing Workstation PC
More details »
Price $7,034 + $520 (4K monitor) = $7554 –> ~$7500
Price $7000 + $79 (mouse) + $129 (keyboard) + $520 (4K monitor) + $249 (Apple Care) = $7556 –> ~$7500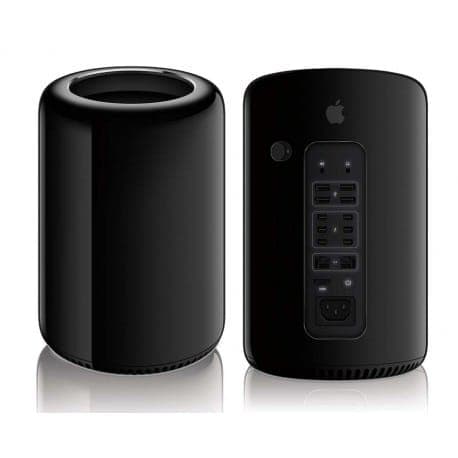 5. Apple iMac Pro 2019 (14-Core)
More details »
Price $8000 + $169 (Apple Care) = $8169 –> ~8200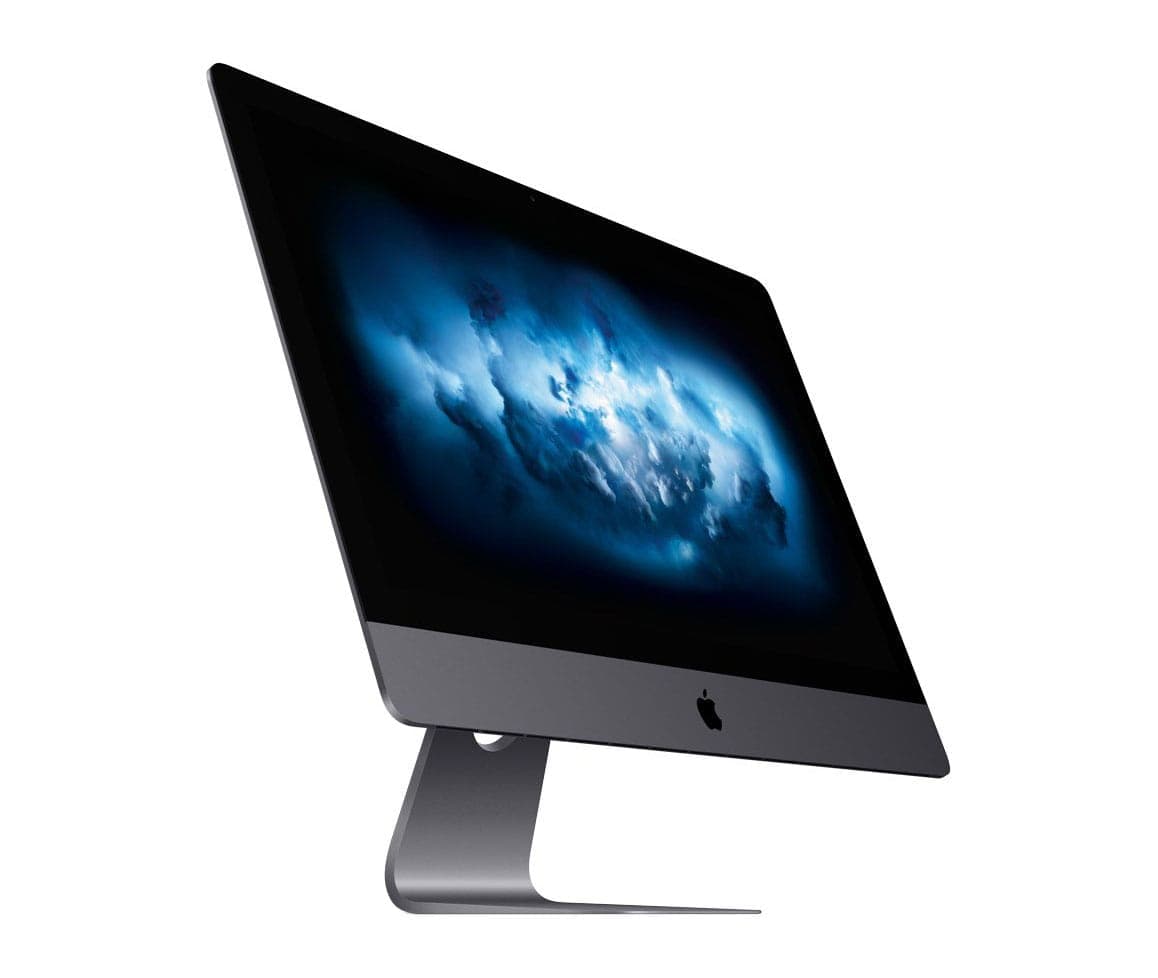 5. Apple iMac Pro 2019 (10-Core)
More details »
Price $7200 + $169 (Apple Care) = $7369 –> ~7400
At BIZON we always make sure that our tests are realistic and as fair as possible, so we try to keep the specs and prices as similar as we can.
In order to do this we used a single 1TB PCIe SSD drive and 64GB of RAM on our BIZON PC workstations, even though we'd usually recommend a little less RAM and multiple internal storage drives when using Resolve.
The iMac systems have a built-in display but you need to buy a mouse and keyboard, so we also added them to our PC workstation and the Mac Pro, along with a monitor. In terms of cost, this adds on an extra $420 but if you opt for a PC it depends on the peripherals you decide to buy.
Our tests focused on the 'Color' tab and on the minimum FPS when using different media and levels of grading. The lowest level was a basic correction using the color wheels plus 4 Power Window nodes with motion tracking. We also used the same adjustments with Lens Flare, Tilt-Shift Blur, and Sharpen, and the final level used all the previous nodes plus a TNR node.
All the tests were completed at Ultra HD (3840x2160) and we changed the playback frame rate to match the media's FPS. We tested CinemaDNG, ARRIRAW, and RED for the RAW footage and tested with the RAW decode quality at 'Full Res' and 'Half Res'. 'Half Res Good' was used for the RED footage.
We thought full resolution decoding would show the largest performance difference and we tested a lower decode resolution for the level of FPS increase. The footage from our tests can be seen below and you can even click on the links to complete your own tests.
An accurate picture for performance
Live playback performance can be tricky to test as it depends on the codec and resolution of your media, the number of nodes used, the effects you apply and the decode resolution used for RAW footage. As several factors are involved we tested as many as possible to provide plenty of data and to give you the best information.
We found it's better to let Resolve use the GPUs in the OpenCL mode when working on RED footage on the Mac, as Metal can cause poor performance. OpenCL is also better for basic color grading on the iMac Pro and on a PC. It should give you almost full FPS with 4K and 6K footage, and will do a good job at 8K. However, the Mac Pro faired the worst and wasn't able to keep up, even in the basic grading test.
As Open FX and other effects, such as TNR were added, the PC really began to take the lead. Our $5,200 PC provided 35-50% higher FPS than the most expensive Mac and our $6,600 PC gave nearly double the FPS of the iMac Pro, even though it's around the same price as the iMac Pro 14-Core.
Apart from RED footage all the media types performed well with Metal compared to OpenCL, so if you don't use RED, Metal is definitely the better option. This may be problematic if you own a Mac as the default setting is usually OpenCL. However, if you use mixed media you should continue using OpenCL, as RED footage doesn't perform well with Metal.
If you continue to use Metal you will still get a large performance gain with a Workstation computer . Beyond a basic grading test our $5,200 BIZON V5000 workstation will give around 25% higher FPS compared to the most expensive iMac Pro and 50% more than the Mac Pro.
Of course it depends on how many effects are used but we found that the PCs took a larger performance lead as the number of effects increased. With an astounding 60% increase in FPS over the iMac Pros when three OpenFX were added and the addition of temporal noise reduction resulting in around twice the FPS.
4K Footage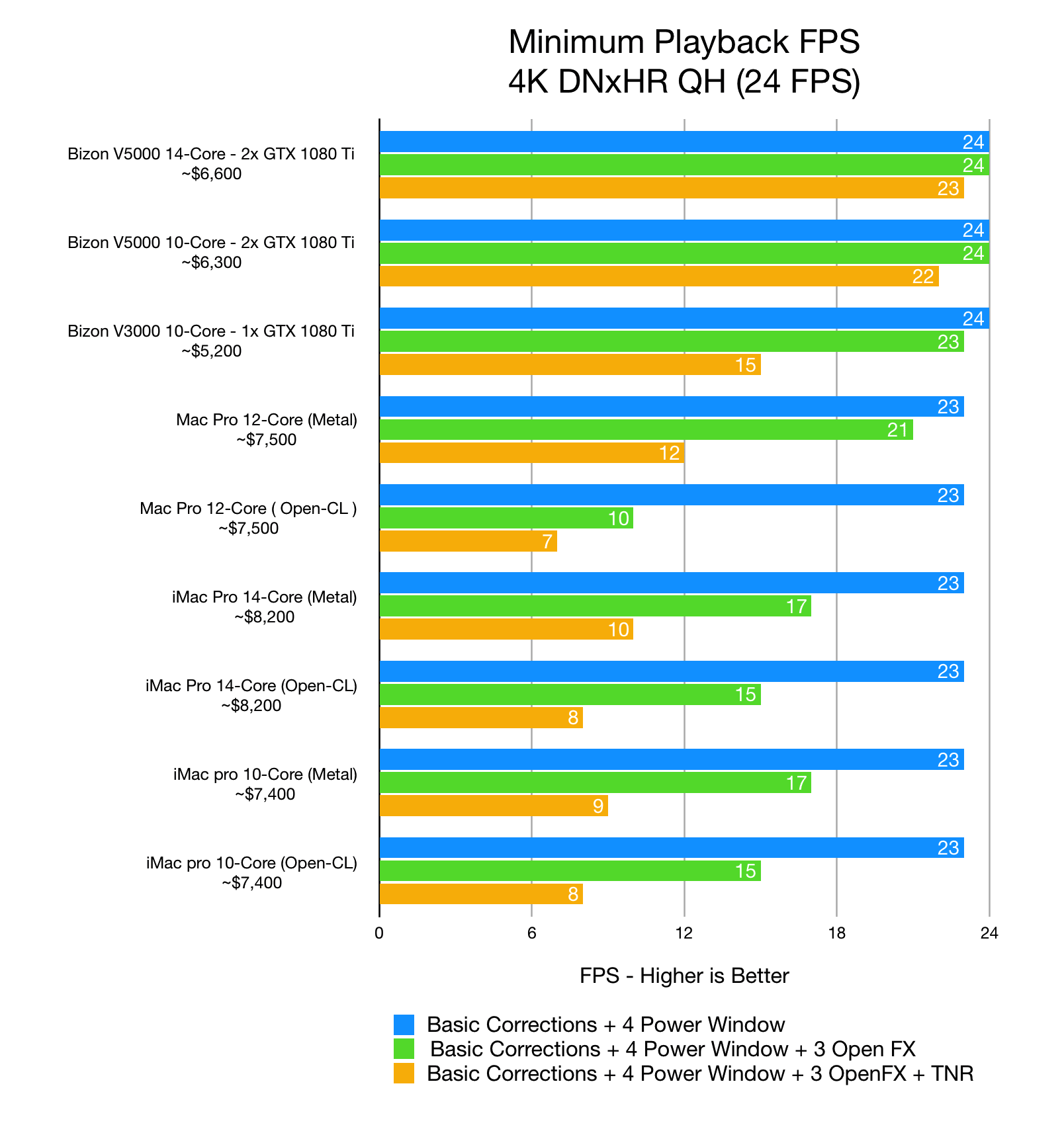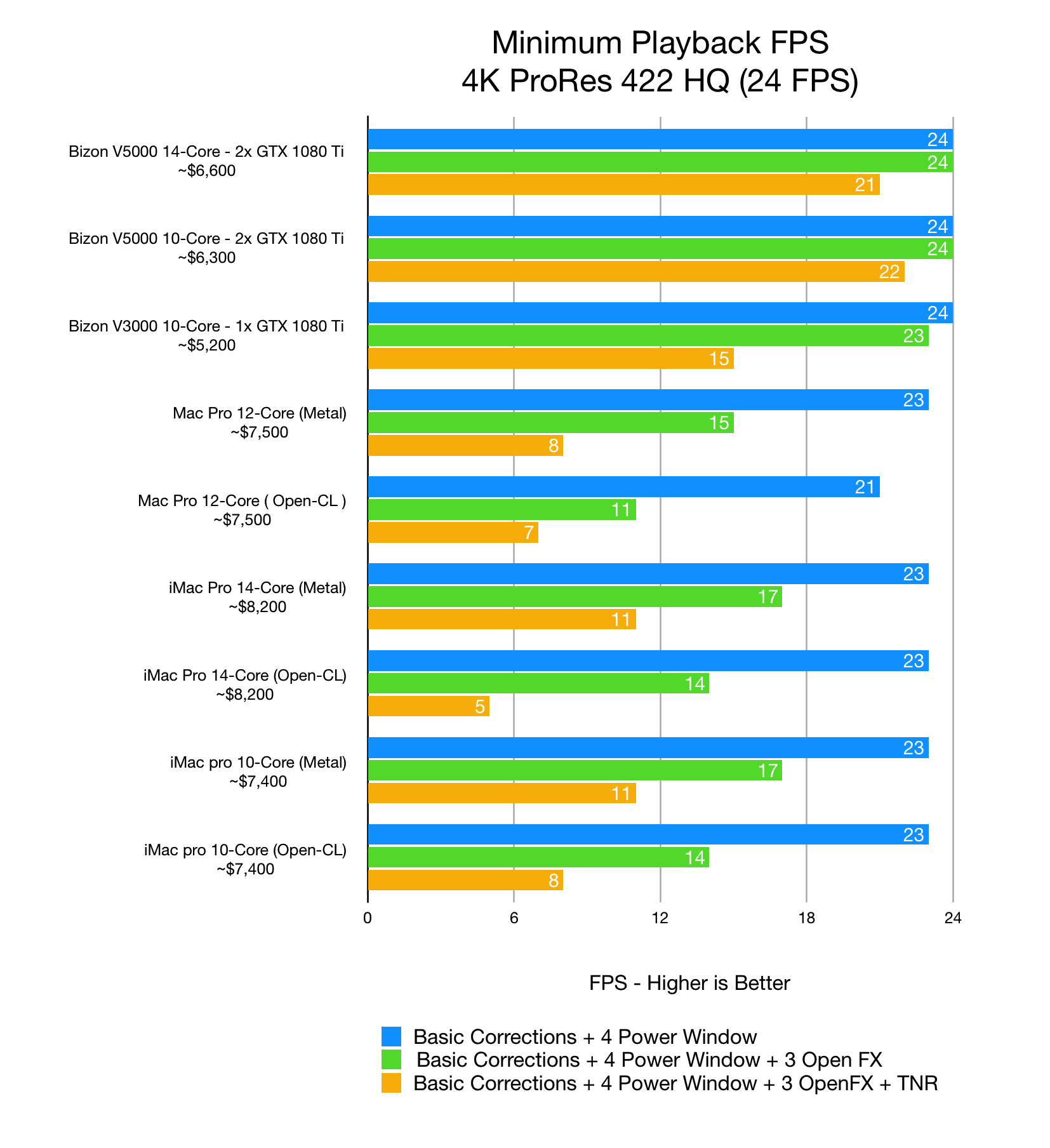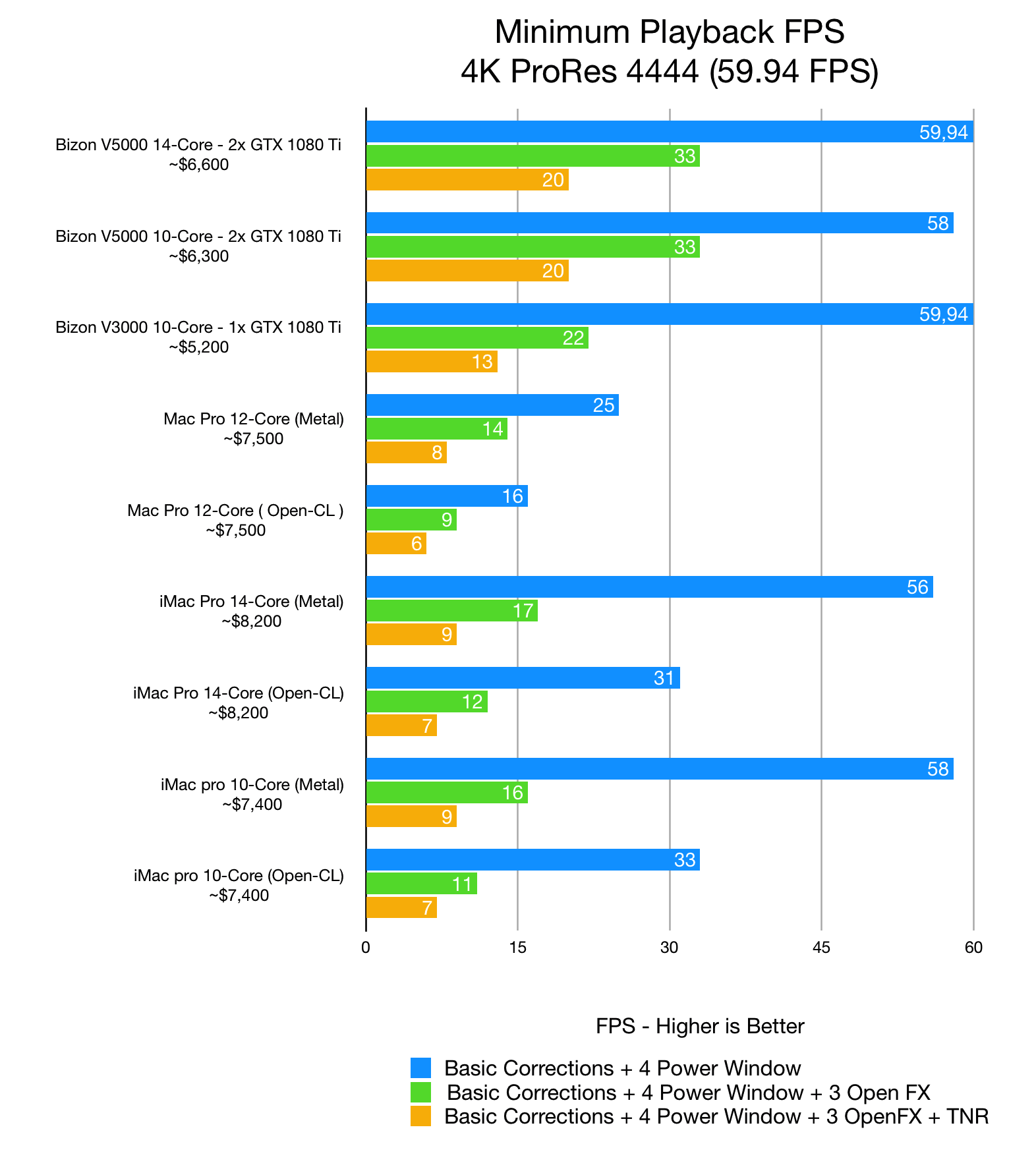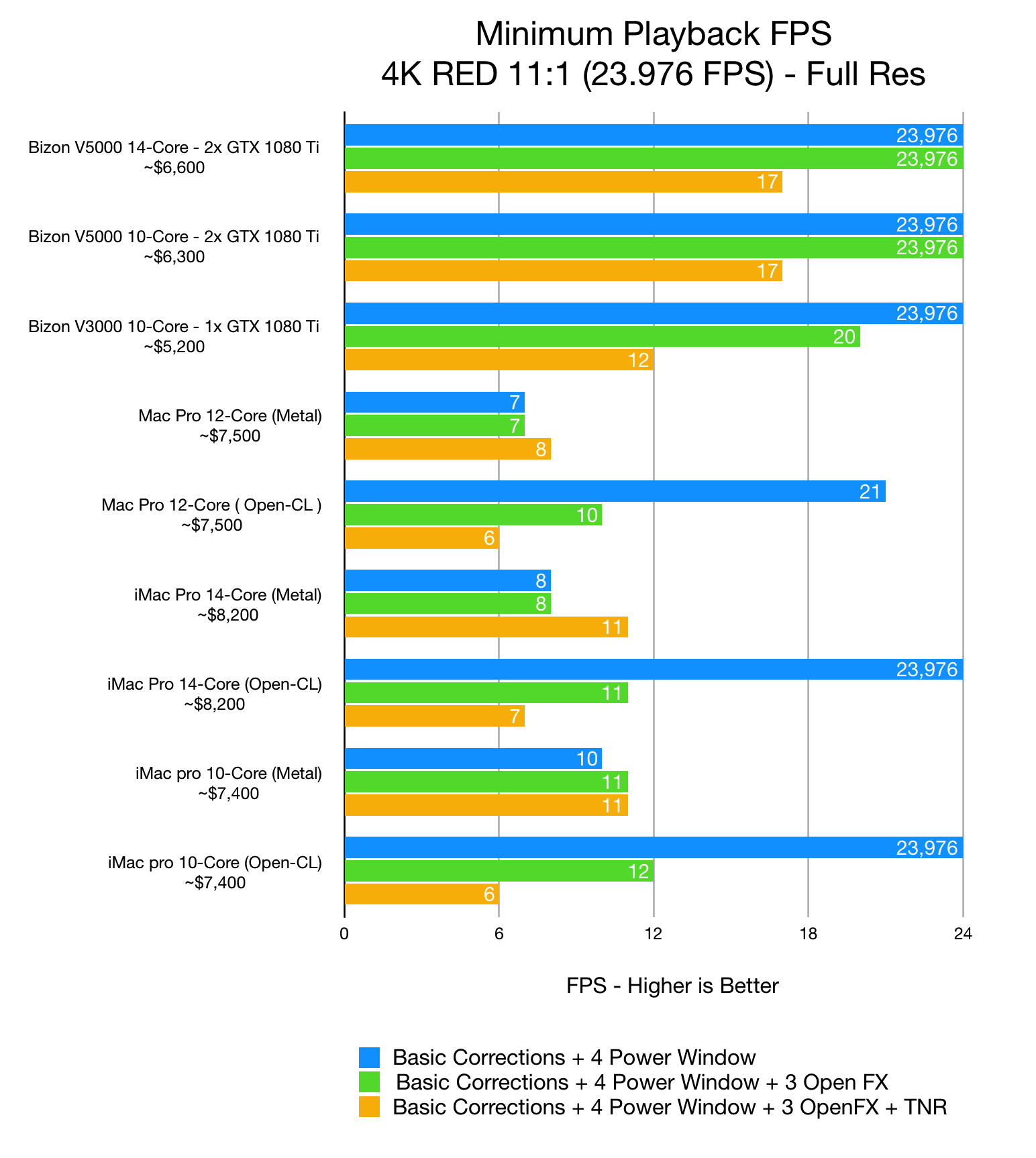 8K Footage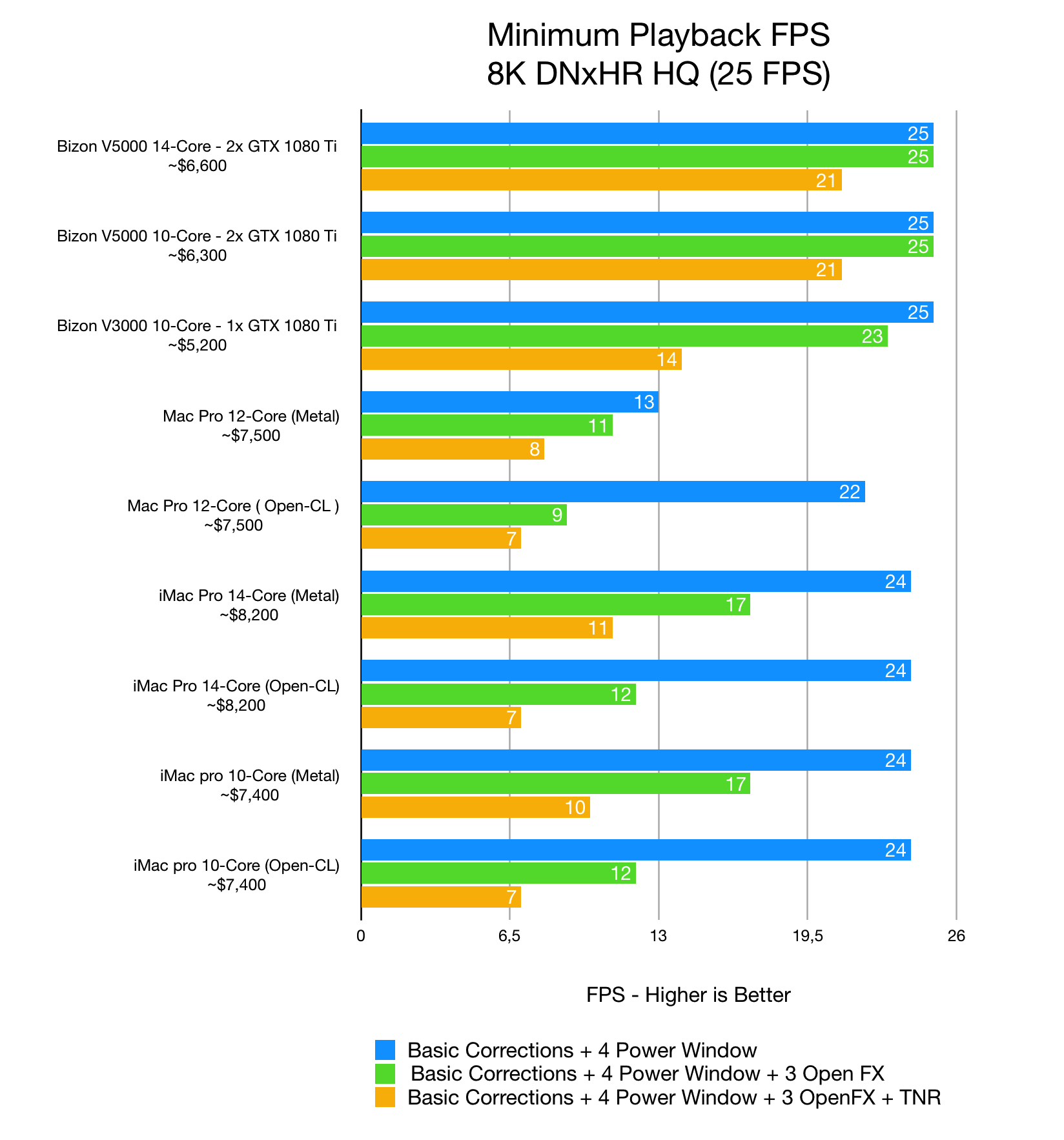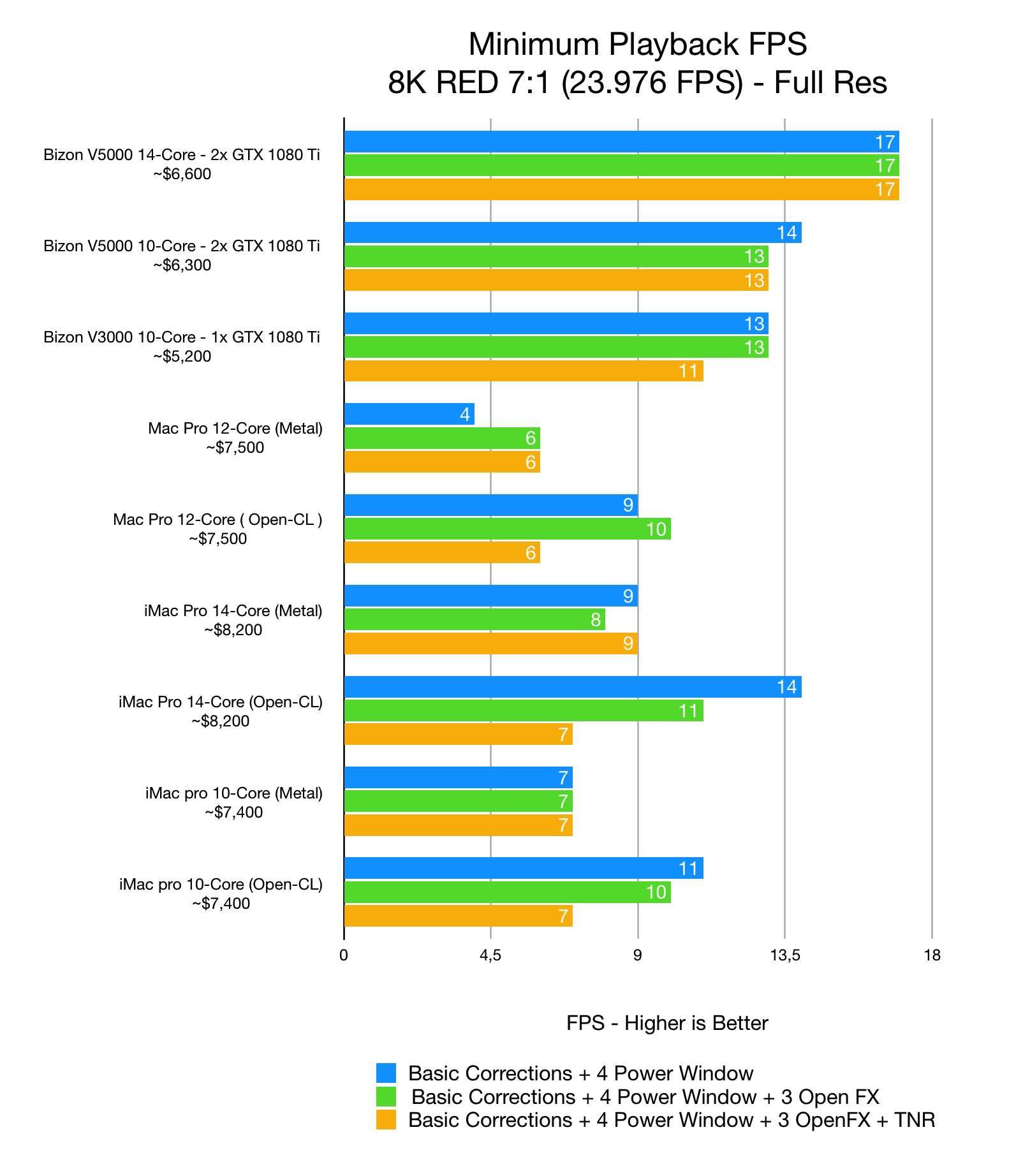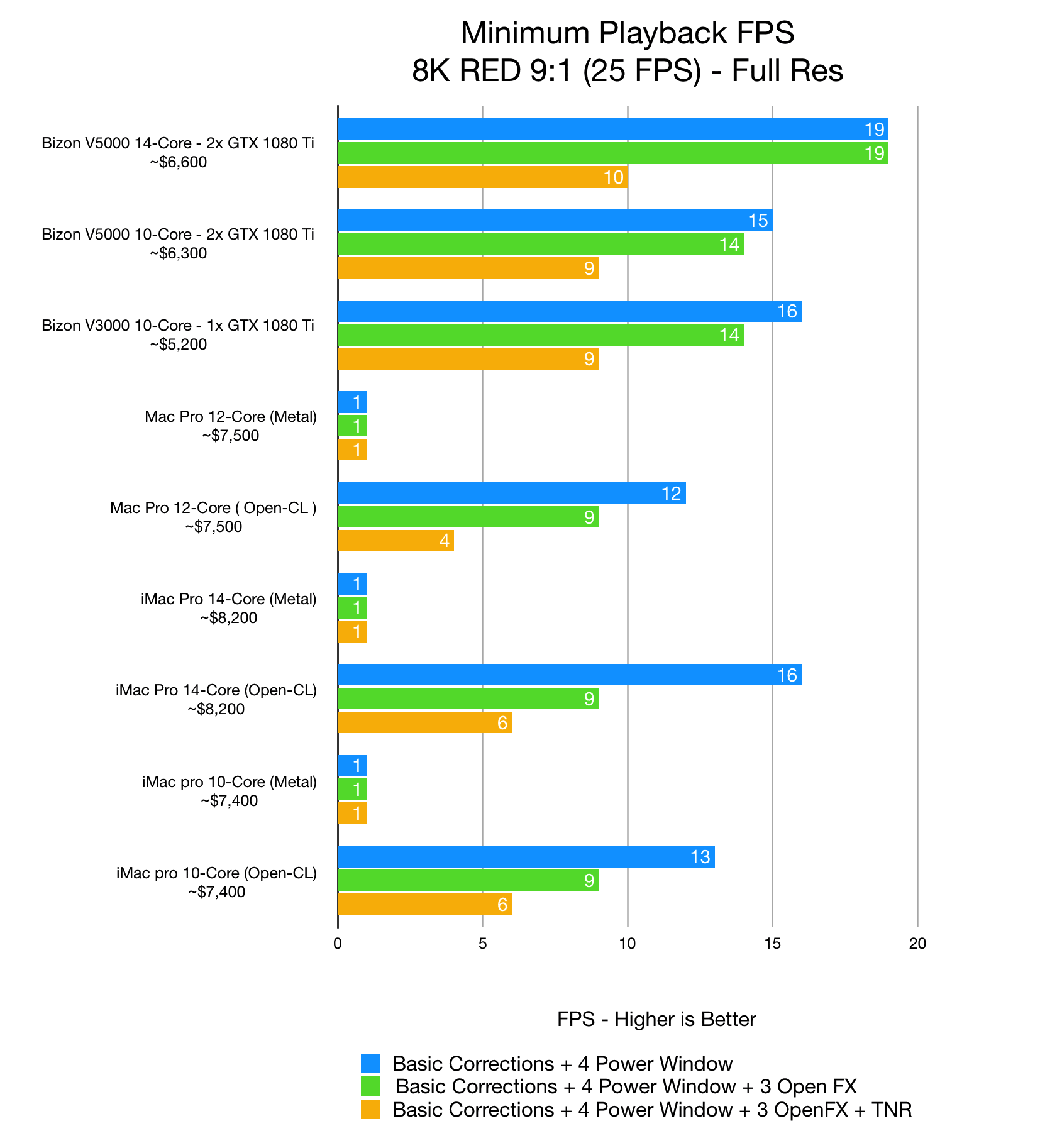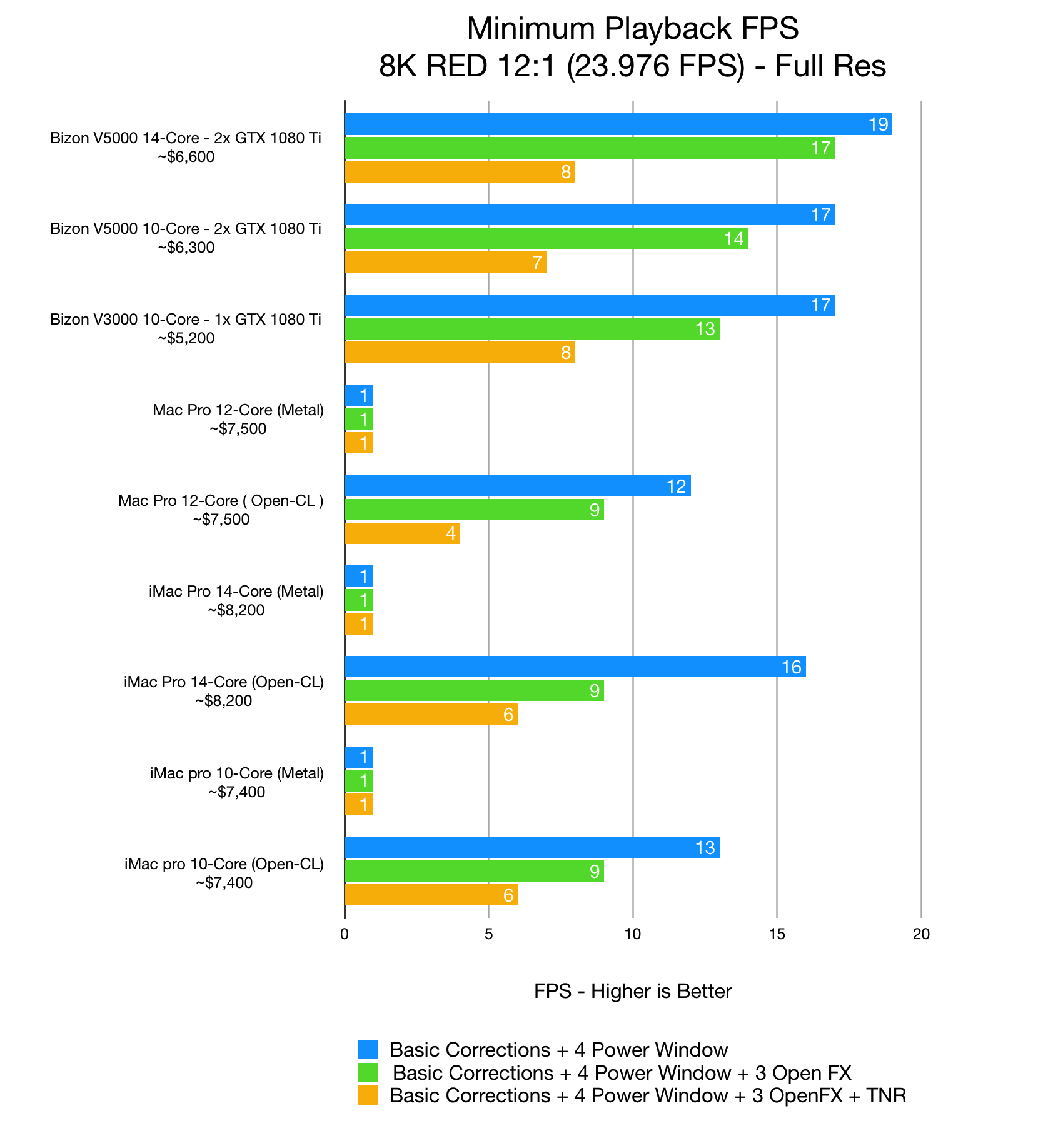 Conclusion: iMac, Mac Pro, or PC?
It is clear that a PC is the better option if you use DaVinci Resolve 14, with our Bizon custom workstation outperforming compared to the iMac and Mac Pro. This is partly because Apple uses AMD GPUs so their systems cannot utilize the CUDA framework offered by NVIDIA cards.
Changing from OpenCL to Metal on a Mac can help with various types of footage but will lead to poor performance with RED footage.
However, for anything more than simple grading, a BIZON Workstation is your best option as it will be significantly faster as well as cheaper.
For example, our $5,200 BIZON V5000 video editing workstation will give you a 45 to 55% increase in FPS if you use OpenFX or heavy effects like TNR. Also, a PC that costs the equivalent of the high-end Mac Pro and iMac Pro systems we tested, should double the FPS.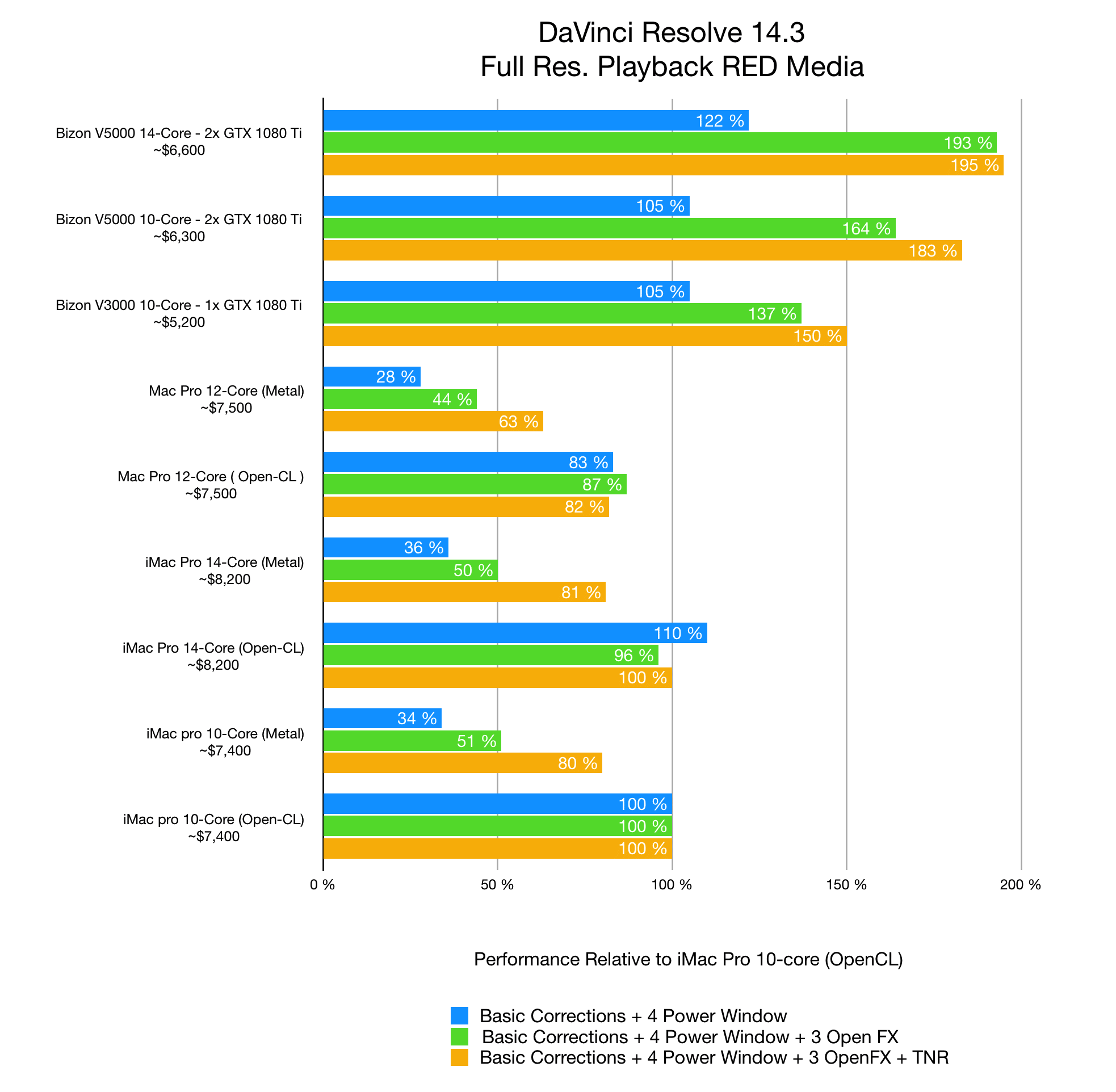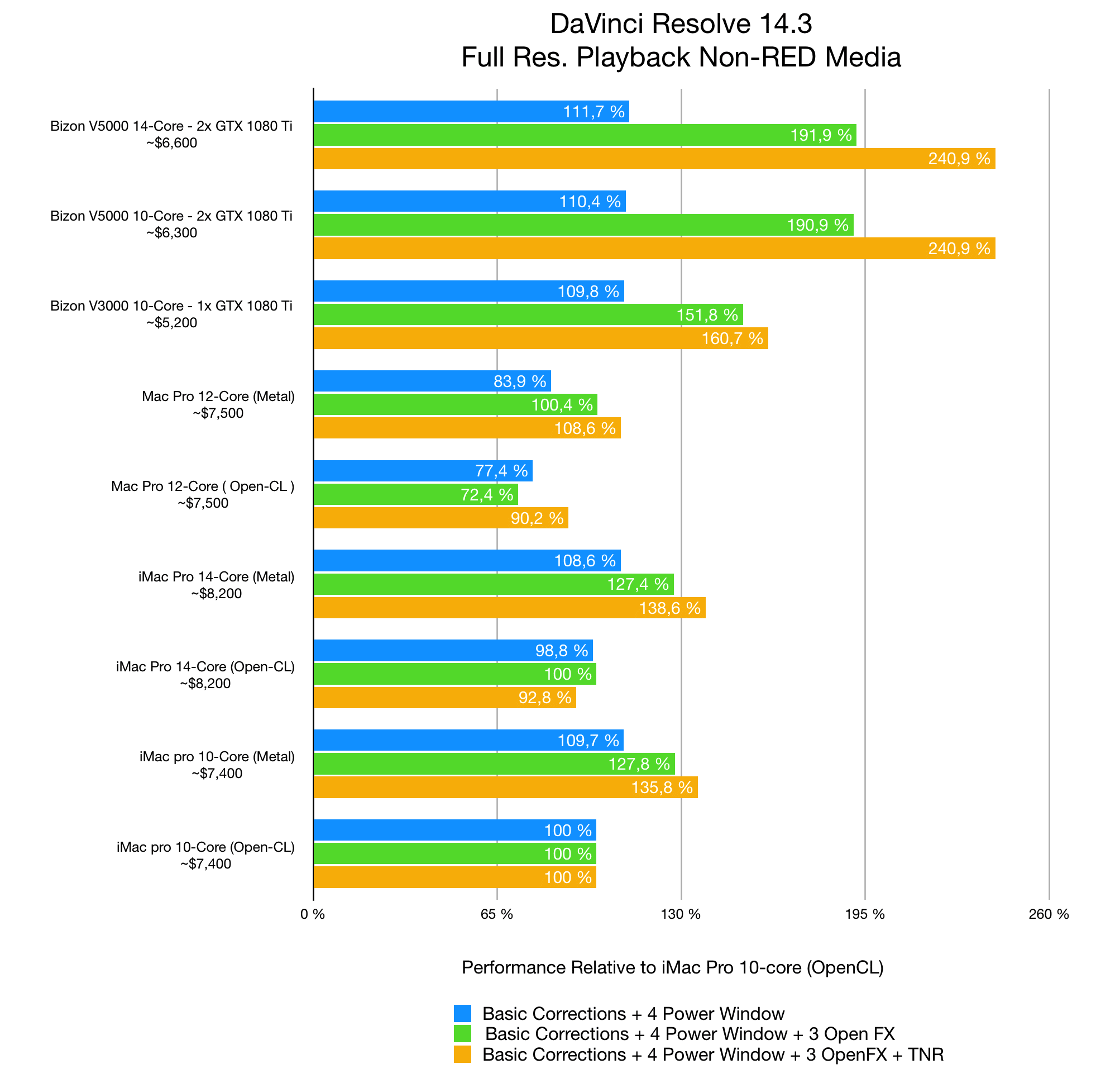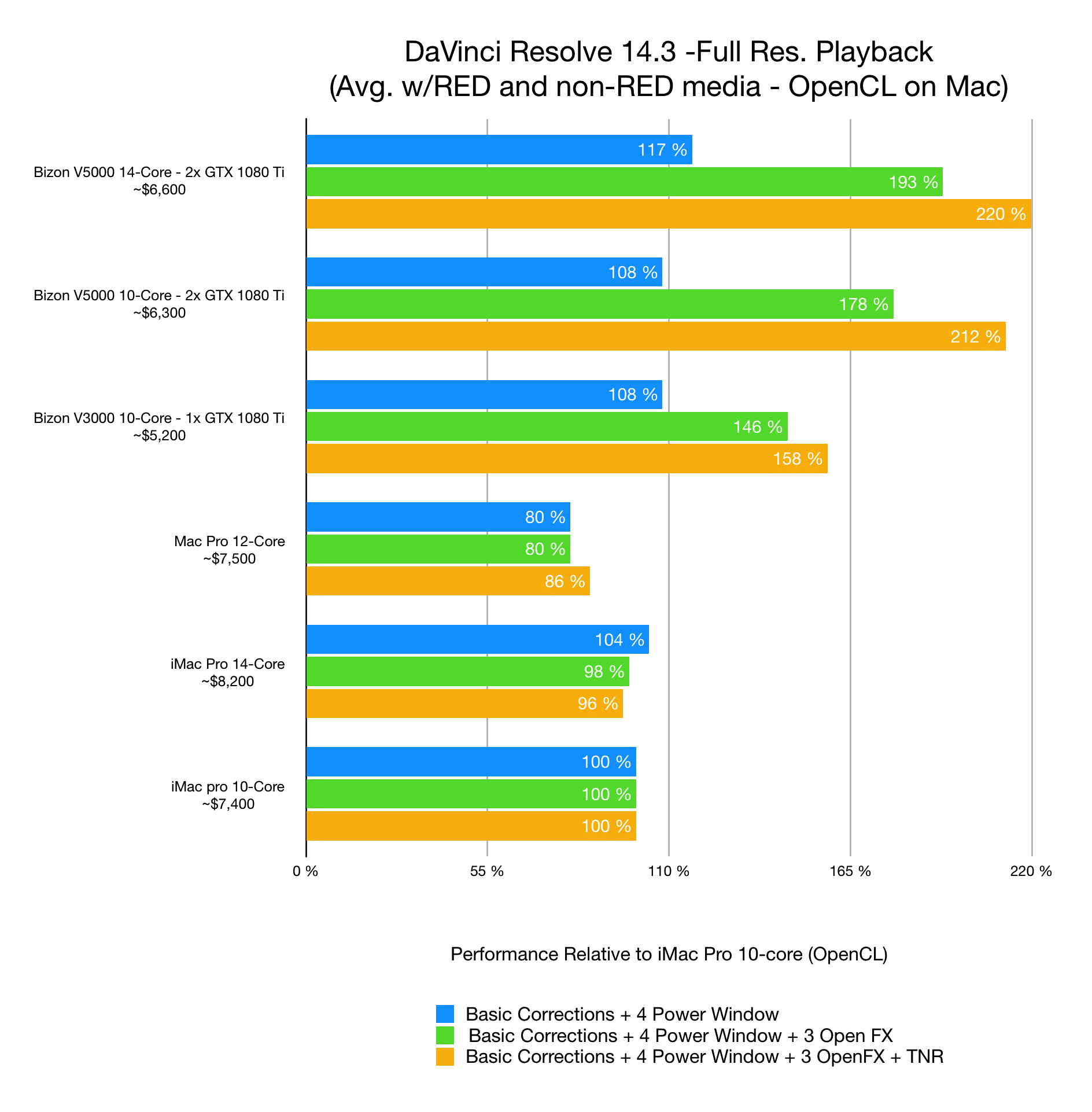 It is also worth considering that we price matched our BIZON Workstations to make a fair comparison with the performance of the Mac systems and added peripherals which increased the cost of out PC. Furthermore, for the sake of fairness we didn't upgrade the GPUs on the PC, which would have increased PC performance by up to 40%.
Therefore, for people that need optimum performance as well as better value for money, and for those that use DaVinci Resolve, our tests show that a PC makes a perfect choice. However, if you still decide to stick to a Mac that won't perform as well, then make sure you use OpenCL, but switch to Metal when using mixed media.
For more information on PC performance compared to Mac systems, you can check out our other articles
here
.
You can also take a look at our 
Recommended Workstations for DaVinci Resolve
and
contact us
us if you have any questions about making the move to a PC.
Magic Pill for your Mac: External Graphics Card
If you already have a Mac and would like to get the max out of it you can try using
external graphics card (eGPU) for Mac
. You still will have the same processor, but eGPU can significantly improve your graphic performance.
Please note that for 4K, 8K projects your CPU will be a bottleneck and you need a powerful workstation to use the full potential of a GPU. Using dual GPUs is possible only in PC workstations and eGPU is not an option here too. For all other cases like FullHD video editing, gaming, VR eGPU will be a good option.
Thunderbolt eGPU box is an expansion chassis designed to house an NVIDIA or AMD graphics card.
Connected to the Mac or PC laptop via Thunderbolt port, the additional GPU power instantly upgrades an integrated laptop's GPU. We have a wide variety on of external graphics cards bundles.
Explore products »